GCB Inter-County U-15 tournament Spinners bowl Berbice to 10-wicket win over Essequibo
… face Demerara in Sunday's finalLEFT-ARM spinners Akash Heralall and Gourav Ramesh shared eight wickets between them, setting up Berbice for a comprehensive 10-wicket victory over Essequibo in the GCB Inter-County Under-15 third-round fixture yesterday at the Police Sports Club ground.Essequibo were dismissed for 85 in 41.3 overs after a dismal batting performance. In the end, only Sheldon Charles (28) looked up for the challenge of batting on a pitch that played a few mind tricks on his teammates.Akash Heralall (4-19) and Gourav Ramesh (4-21) were the main architects in the Berbice bowling attack. They received support from off-spinner Abdul Ramsammy (2-14), who was the other successful bowler.Winning the toss and deciding to bat first, Essequibo openers Charles and Chaitram Seurattan frustrated the Berbice bowling attack and added 28 for the first wicket.The pair succeeded for 13.1 overs, and built on their solid platform with relative ease – the right-handed Charles playing the attacking role.However, Heralall provided the first breakthrough when he trapped Seurattan leg-before-wicket for one.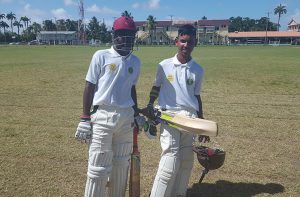 Ricardo Ramdial (right) and Anthony Williams leave the field after their unbeaten opening standThereafter, Essequibo endured a rough time at the crease and squandered their wickets to hand Berbice complete advantage.The spinners broke the backbone of the Essequibo batting line-up, and it was during that phase where they played some poor cricket that led to their downfall.Wasim Mohamed (1) was also trapped plumb in front to Ramsammy before Heralall removed Charles, Manoj Dasraat (0) and Ronaldo Scouten (15).At 57-5, the situation called for a calm head and steady hands, but the remaining batsmen could not provide either of the two.Ramesh began to exploit whatever bounce and turn on offer from the pitch, and in the process looked in complete control of proceedings. He claimed the wickets of Mark Mohabir (0), Oren Gibson (6), Shawn Monro (0) and Inzamam Bacchus (5).Sunil Persaud and Devindra Ramdahin didn't last long as Ramsammy wrapped things up quickly with the wicket of Ramdahin.Berbice openers Ricardo Ramdial and Anthony Williams then made the most of ideal batting conditions.The pair were cautions at the start of their innings, but eventually batted with assurance as the innings progressed.Ramdial was unbeaten on 34, while Williams was not out on 35, when the victory target was achieved in 24.1 overs.Berbice will face Demerara in Sunday's final, scheduled for the Georgetown Cricket Club (GCC) ground.Meanwhile, Demerara easily disposed of the GCB President's X1 by eight wickets in the other game played yesterday at Everest.Batting first, the GCB President's X1 were bowled out for 84. Shamma Yearwood made a fighting 32. Chanderpaul Ramraj (2-19) and Devanand Khemraj (2-17) were the most successful bowlers for Demerara.In reply, the defending champions reached 85-2 in 20.2 overs, with Shoaib Shaw hitting an unbeaten 37.