Tributes pour in for 'Mad Dog'
THE tributes are pouring in for the late local drag-racing competitor and people's champion, Deryck Jaisingh, known as Mad Dog.Mad Dog, who rose to fame by piloting the Toyota Supra built out of the S&D performance shop, was Guyana's fifth victim of the COVID-19.He had tested positive last week but was showing signs of recovery according to several sources within the medical sector.However, he passed away on Monday evening.The Guyana Motor Racing and Sports Club released a brief statement shortly after.
S&D's Shawn Persaud (Centre) and Mad Dog during a testing session for drag racing (GTCallouts Photo)'The Guyana Motor Racing and Sports Club (GMR&SC) is deeply saddened at the news of the passing of its member Deryck Jaisingh. The club and the entire motor racing fraternity join his family and friends in mourning his passing which has rocked the sport.He was the reigning Unlimited Class drag-racing champion and even the fans will be grieving at his passing.Deryck was described by those who knew him as a genuine and kindhearted individual.The GMR&SC would like to express its heartfelt condolences to his family and may God give them the strength to get through this tough time.One of Mad Dog's main rivals, Team Mohamed's Enterrpise, through the owner Azruden Mohamed, recounted his relationship with Mad Dog."I've known Mad Dog for about 17 years now. He started out driving one sand truck on Lombard Street and grew. I really admired how he worked his way up to one of the largest trucking and heavy-duty machinery transport companies in the business."On the racing front, I admired how he came up to the calibre of the Team Mohamed's GTR. He was always a fun and exciting guy and we hope the legacy of the mad dog supra continues.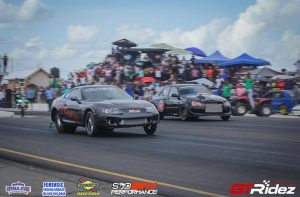 Deryck Jaisingh in the Mad Dog Supra takes on Rameez Mohamed in the Transpacific Alteeza (GTCallouts Photo)The S&D performance camp expressed its sadness at the passing of one they deemed a brother and a friend."We have lost more than a racer. I have lost a brother. I cannot explain what this means at the moment. It's hard," Shawn Persaud told Chronicle Sport.Other racers took to social media to express their condolences on the passing of one of the greatest men in the form of motorsport which is now blooming.GMR&SC president Rameez Mohamed, himself a racer, commented, "Things like this we feel as a family. We race against each other but at the end of the day, we are a family. We see each other every meet and sometimes between meets. Whenever a racer passes on, we feel it as a fraternity and as a family."Funeral arrangements for Jaisingh are not available at this time.